Introduction
The use of building information modeling (BIM) is expanding in fields such as architecture, civil engineering, and urban development.
2009 is often described as the first year of BIM in Japan, but Yasui Architects & Engineers, Inc. has been fully engaged in BIM design since 2007. The company has built up a great deal of BIM experience, and has also helped establish and expand BIM in society by organizing some of this know-how into BIM templates and making them generally available.
Accompanied by this wealth of experience and achievements, BIM at Yasui Architects & Engineers flexibly accommodates challenges in diverse environments and ever-changing design conditions. It is also client-oriented BIM that gets to the heart of the needs of the ordering party or building owner.
The use of BIM is linked to consistently moving projects forward from the perspective of integrated project delivery (IPD), such as consensus building and integration of ideas among the parties involved in the project and high-quality implementation.
This chapter introduces" IPD/BIM", the BIM implemented at Yasui Architects & Engineers, which involves consistently using and developing BIM from a broad perspective.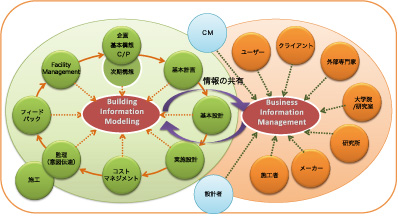 Engaging with BIM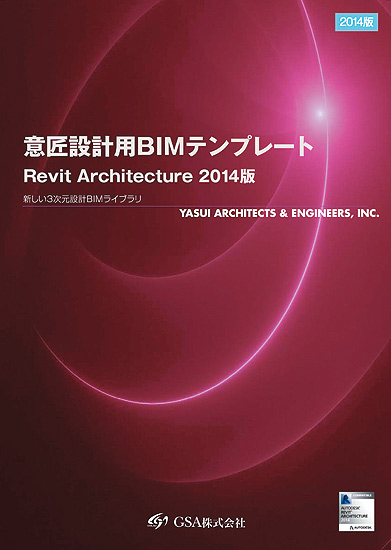 There were several factors that led Yasui Architects &Engineers to start engaging with BIM.
The first was a response to low design productivity and long hours of work ; the second was rectifying postponed, inefficient processes; and the third was a company-wide "top-down" initiative.
Thus, the use of BIM at Yasui Architects & Engineers began with its introduction as a tool to improve the entire design process including enhancing productivity and optimizing processes. By establishing the three BIM pillars of "regulations" (determining procedures and rules), "standards" (standardization), and "skills" (education and training) and advancing projects strategically, the company succeeded in achieving substantial growth and results.
As a result, the attention of many clients has been captured by optimization of the design process and quality improvement due to "front-loading", or, the use of BIM in overall project planning, particularly expansion to the operation and maintenance process. In other words, BIM at Yasui Architects & Engineers is, at all times, BIM from the client's perspective, i.e. client-oriented BIM.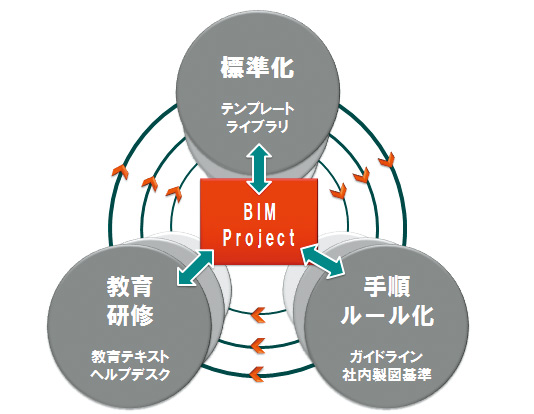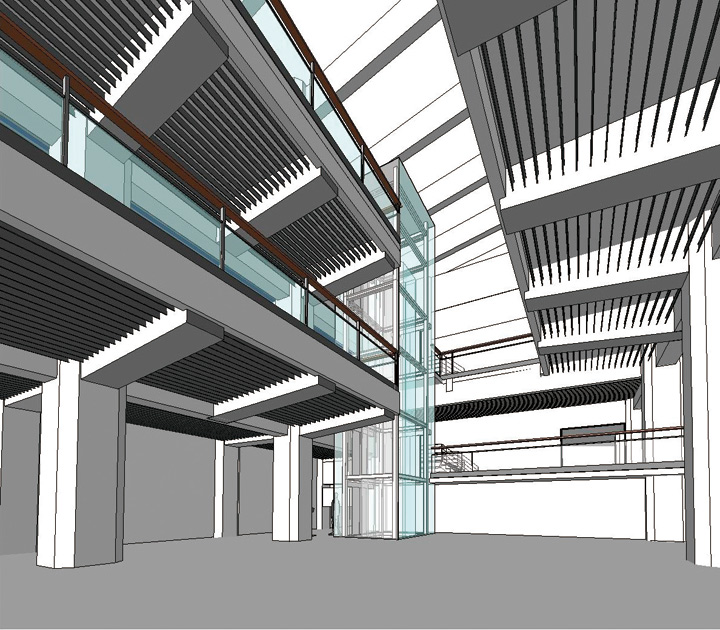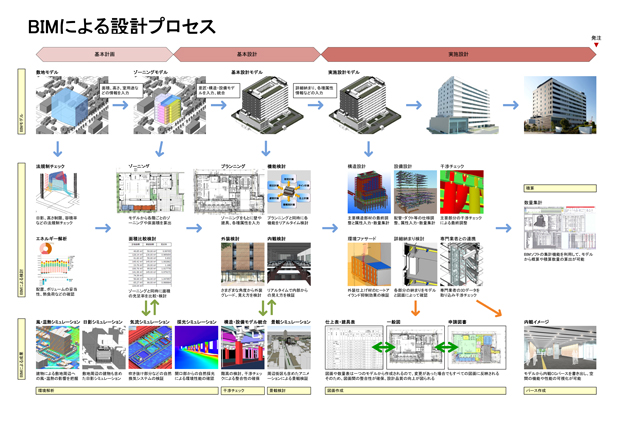 Effectiveness of BIM
Benefits in project management

Client benefits

One feature of BIM-visualization-is bringing about huge changes in "appropriateness of value and cost" and "transparency of processes in project planning", which are client needs. Put simply, as well as making it possible to understand the full picture of a project plan in the early stages, high-quality BIM processes can derive more useful projects and buildings as well as numerous client benefits.

Effectiveness in the design process

Efficient and effective design process

In BIM project processes, calculations for landscape, environment, energy simulation, life cycle cost, and O&M cost are carried out under various conditions using 3D models. Above all, outputs derived logically from qualitative/quantitative perspectives using dozens of sample types, together with clear consensus building, produce efficient processes that are not postponed.

Landscape and environmental simulation of the initial planning stages

Seamless data linkage

One benefit of the use of BIM in design is that data can be seamlessly linked in the design phase, and the client and designer can endeavor to reach consensus by sharing the BIM model.
BIM allows all data to be stored and managed in one file. As well as allowing the project to be considered from all angles and perspectives with a bird's-eye view, this makes it possible to reliably elicit important decisions from the client.

Integrated design and "full BIM"

High quality due to integrated design

High-quality designs can be formed by advancing and integrating architectural, structural, and equipment BIM models. In addition to sharing interference checks and various attribute information, integrated design makes it possible to clarify cost reduction and cost-effectiveness (value), including VE.
Integrated design involves creating a database that consolidates information from all fields. This makes "full BIM", which means 3D design in every field, a prerequisite.

"Full BIM" model

BIM changes the design process

Towards a concurrent process

Integrated design ("full BIM") makes it possible to guide a project towards its objective with a comprehensive view that includes quality, performance, and cost.
It also makes it possible to organize the project from a "concurrent" perspective that uses simulations, interference checks, quantity calculation functions, and an integrated database ("front-loading" of the process).
However, the skills required to implement this kind of concurrent process include, not only BIM skill/logic and data gathering skills, but high-level design and design process management skills.

Design skills/management skills and BIM

The existence and understanding of BIM-LOD (Level of Development) is required to implement BIM design at a high level. By clarifying data structures and procedures, BIM data can be constructed quickly and effectively, and the data can be fine-tuned to the project phase in an efficient and effective way. Yasui Architects & Engineers has established its own BIM-LOD, and extracts 100% of the potential of BIM in project management.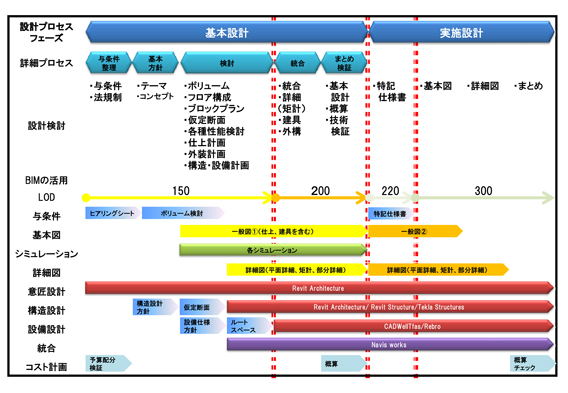 BIM data linkage from design to construction -Examples of "full BIM" design-
Kaga Electronics Headquarters Building
The design and construction of the headquarters building for Kaga Electronics Co., Ltd. was a groundbreaking project in which BIM was used in all processes.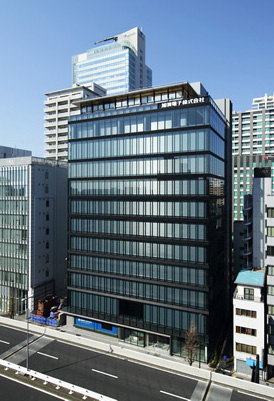 BIM processes

BIM was used throughout the entire process and the BIM data was carried over into each phase of preliminary design, detailed design, and construction. BIM was also frequently used in communication with the client. Explanations and descriptions in 3D using BIM are thought to have played a huge role in building consensus, sharing information, and determining policies with the client-side project team and company employees.

Merits of introducing BIM

The integrating force and "front-loading" of BIM dramatically improved the burden on personnel in the construction and supervision stages. With regard to the structural drawings in particular, because multiple drawings relating to the building frame, such as steel fabrication drawings, concrete drawings, and bending schedules, were created and simultaneously linked with bar arrangement inspection drawings and other inspection documents, BIM proved useful in preventing the human errors that occur in 2D.

BIM and facility management

Since completion, facility management has been performed using the BIM database. Yasui Architects & Engineers is attempting to use BIM in energy management, as well as management of cleaning, inspections, and repair, by linking BIM with the O&M system. The intention is to verify, analyze, and evaluate the results of a year-long trial since the client occupied the building, and establish the use of BIM in the field of operation and maintenance.
The Kaga Electronics Headquarters Building is an innovative building that, even after its completion, is paving the way for next-generation BIM.

Maebashi National Government Building
As a trial BIM project, Yasui Architects & Engineers is studying and testing methods of applying BIM in the design and construction of the Maebashi National Government Building ordered by the Kanto Regional Development Bureau of the Ministry of Land, Infrastructure, Transport and Tourism.
Maebashi National Government Building-Use of BIM in design phase-

As well as being used in the areas of design, structure, electrical equipment, and mechanical equipment, BIM was used in cost planning for some approximations and estimations. (Design using "full BIM") In particular, by coordinating the management of floor plans and plans for security, sound insulation, disaster prevention, OA, and so on during preliminary design using one file, BIM was confirmed to be extremely useful in process terms. Also, the use of aggregation functions to organize the layouts and desired/adjusted areas of each government office all at once resulted in trouble-free establishment of volumes and the determination of floor plans within several weeks, which surpassed the process used before. The establishment of BIM-LOD through the creation and input of necessary and appropriate data according to the design process was also a great achievement.

Integrated design ("full BIM")

Carrying out 3D design in all fields right from the initial design stages led to the implementation of a design in which costs were curbed by, for example, establishing a minimum story height.
Also, the incorporation of various environmental and landscape simulations meant that studies and discussions were conducted with a balanced view of design and function from the early stages of design, and this made it possible to manage the design process efficiently.

Maebashi National Government Building-Construction phase-

Three contractors are integrating three lots of data using IFC and, while carrying out interference checks, are expanding the data to a general drawing and working drawings in each field. Yasui Architects & Engineers intends to continue to use this data in operation and maintenance.
BIM for the client
BIM of value to the client
It is becoming clear that BIM has a certain efficiency and effectiveness as far as the designer and builder are concerned, but it will be difficult for it to become highly regarded by society if it is useful only on the building production side.
BIM must be of value to the client. In particular, the usefulness of BIM as one method of making business decisions must be demonstrated.
The needs of the client in project planning are summarized in the right-hand diagram. BIM is regarded as being able to resolve these needs and contribute adequately to improving the efficiency of the client's management and business.
Application in project planningBIM can flexibly accommodate client needs from the perspective of business processes. In short, BIM makes it possible to arrive at accurate solutions in each phase, including project planning, design, cost management, and operation and maintenance.
For managers and businesspeople, the question of how to steer a project at any given time is an extremely important decision. BIM is one tool that facilitates this decision. More specifically, with reference to past data, the BIM database puts together simple floor plans and exterior plans, and clearly works out the appropriateness of the project plan and its value at the current point in time.
Solutions with a comprehensive perspectiveEspecially important in project planning and processes is the stage of basic conception/basic planning. The focus is on how quickly and logically project value and cost are set up during this stage, and this is also a client need.
BIM can derive clear solutions in the initial stages of a project from various perspectives, such as environment, cost, O&M, quality, and also from a comprehensive viewpoint. This makes it possible for the client to go ahead with the most rational project plan.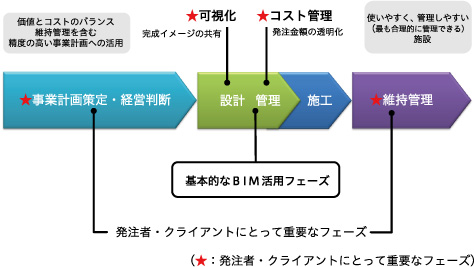 Visualization of "value & cost" using BIMMany of the benefits of BIM lie in visualization. Visualization of design, processes, costs, technologies, and quantities using BIM elevates architectural forms to a higher level. The quick and accurate visualization of "value & cost" in terms of design, specifications, functions, and cost, using the most characteristic function of BIM the "quantity takeoff function" is starting to bring important benefits to the client.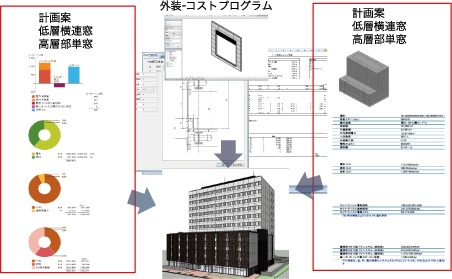 Use of BIM as a databaseBIM visualization is based on the BIM database. By attaching generated data and attribute data relating to the building, structure and equipment to the data in each phase of preliminary and detailed design, it can be used and developed in various fields such as cost planning, O&M planning, and project planning.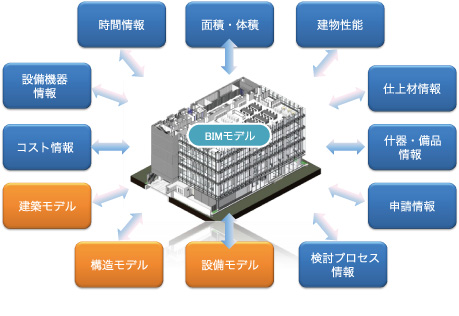 Application in operation and maintenanceOperation and maintenance costs account for approximately 80% of a building's life cycle cost (LCC), and so, for the client, facility management (FM) is becoming an important factor requiring appropriate judgment even at the stage of project and management planning.
n order to implement effective FM, it must be addressed from the point of preliminary design. In short, plans must be carried forward in a balanced manner by weighing the cost/value of the building and the cost/value of O&M. This is exactly where the application of BIM in project planning comes into its own. The correct judgment and direction here will greatly reduce the LCC, which means that the building will be evaluated as inexpensive.
Based on these ideas, Yasui Architects & Engineers has developed its own BIM-FM tool, which is available to the public.
BIM and management operations
Taking an overview of a project, various opportunities for introducing BIM can be found in each phase, including project management (PM), construction management (CM), facility management (FM), and property management (PMr). By using BIM in project planning itself and connecting and integrating each phase, it is very possible to encourage quick and accurate project planning through "front-loading" and visualization of BIM forms and quantities.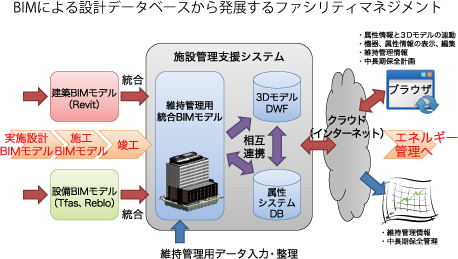 Closing
BIM in the future -Transformation of the building production process-BIM's "derivation of correct decisions through visualization", "seamless data linkage", and "use of aggregation functions" will transform the design/building production process by restructuring it into a more efficient and effective process.
Unified application of BIM to design and construction, streamlining of performance-based contracts and other contract forms, and uniformity of LOD and guidelines, can be expected to improve efficiency and make coordination smoother by increasing the amount of data that is shared between the designer and the builder.

At the same time, transformation can also be expected in the building production process as seen from the client's side. As mentioned earlier, BIM is starting to influence project planning and management planning.
In particular, only BIM can adequately encourage "appropriateness of value and cost", "transparency of processes in project planning", and "use in operation and maintenance".
As well as playing a part in management, BIM that satisfies client needs will be the driving force in transforming building production and business processes.

Japan will lead the world in BIMBIM in Japan has shown rapid growth during the five years since 2009.Various applications in aspects of visualization and processes are starting to be accepted with great interest and anticipation in business and building processes.
Despite problems such as lack of uniformity of guidelines/LOD and data linkage, it appears that intellect supported by high design and construction capabilities is in our hands with BIM.
The problems will be resolved within several years, and Japan will become the most advanced country in the world for BIM.
Japan's BIM supplements architecture, which demands creativity and technical expertise, with management and business capabilities, and it will involve managers and society to become a leading presence in the world.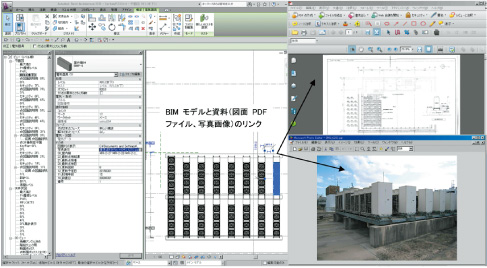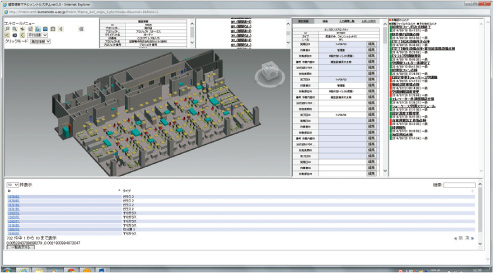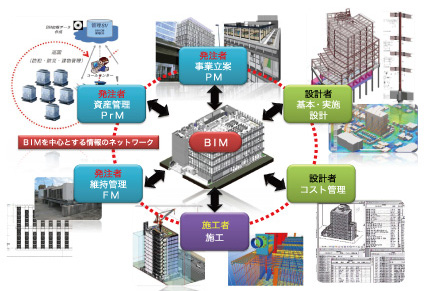 Kouji Muramatsu
(Managing Director, in charge of Design, IPD,BIM, Innovation and Tokyo office)