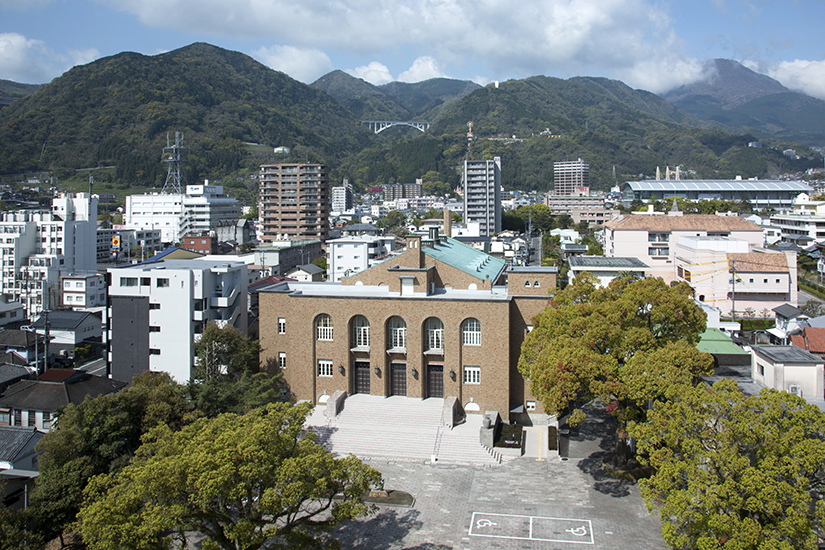 Renovation 7 Beppu City Public Hall, Renovation
The Beppu City Public Hall, completed in 1928, has undergone several renovations. It features, among others, an arch structure on both the interior and exterior and the earliest balcony-style bleachers installed in Kyushu. The building is the oldest reinforced concrete structure still standing in Oita Prefecture and is registered as a Tangible Cultural Property of the city.
During the 2016 renovation, in addition to seismic reinforcement and barrier-free access, the main front staircase, which had been removed in 1967, and the foyer in the entrance hall were restored. The renovation of the Main Hall, which took place last year, replaced the first-floor seating with comfortable chairs with armrests on both sides, along with floor finishes.
The public hall building was designed with the Stockholm City Hall as a reference by architect Tetsuro Yoshida, who worked on various historical, modern buildings, and the Tokyo Central Post Office, which Bruno Taut praised as a masterpiece of modernism. The retro-modern building with cultural value inherited even after renovations offers many highlights, including the reproduction of the original design lighting.
WORK PAGE Beppu City Public Hall, Renovation
<Renovation>
1 From "scrap & build" to "stock & renovate"
2 Passing on 40 years of knowledge to the design and renovation of the future
3 Renovation plan in the Covid-era to protect what is most important
4 Built 100 years ago, the renovated industrial heritage site becomes a local symbol
5 Seismic retrofitting of the Meguro City Office, a masterpiece of architect Togo Murano, has been completed
6 A social hub, open to the local community